Who We Are & More About Us
About Us
Network Chico
is a leading web hosting provider with high customer care goals.
Network Chico
's extensively examined and well tested hosting platform ensures smooth performance of the products we offer. The mix of stable servers and unparalleled customer care are responsible for our leading position in the web hosting market.
Welcome Customer Care Mission
Every new paying client is followed-up with a welcome phone call by a sales representative to ensure the client's confidence of choosing the right web hosting provider by answering any questions you might have.
Data center infrastructure
Network Chico operates a clustered hosting platform between its two datacenters in Europe and the USA. This outstanding idea is the essence of the servers' stability and its steady position among the leading hosting providers on the world wide web.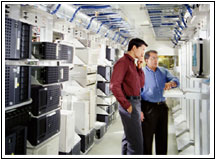 Hosting Solutions
Dedicated to driving a revolution in the hosting industry we produce all modules of our clustered hosting platform in-house. Everything from server monitoring systems to the user's hosting control panel is designed, developed and extensively stress tested by our experienced staff. This determines the intangible quality of our hosting platform which aims to satisfy all our client's needs.
Make Money now with the HOTTEST Domain Reseller Program going. All new reloaded plans! Best buy rates, support and value. No deposits or revenue sharing. Let Network Chico put you in the red-hot domain name registration and web hosting business. We've done the heavy lifting including product development, customer support, infrastructure and we've even built your instant eCommerce Website. Reseller Hosting. Resell Domains. Turnkey Solutions. Take your business live on the Internet and start earning money TODAY!